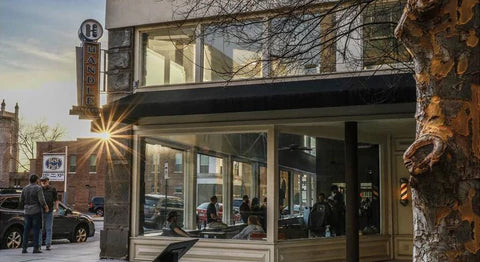 Field Trip | Handle Barber Shop
This week JD had the pleasure of visiting one of the newest businesses in downtown Little Rock. Handle Barber shop (@handlebarbershop) has is a modern take on a vintage classic. Be ready to be pampered in the manliest way possible. With custom made barber chairs and beautiful natural light this place is a breath of fresh air for anyone that needs a trim, a fresh cut, or beard maintenance. 
Book your appointment online today here.
Historically the barber shop is a place of relaxation, and an escape from the world for most men, and this really seemed to come to life at Handle. The staff felt like longtime friends. Handle is here to build relationships centered around making you look and feel good. Cody, the head barber at Handle, puts pride and passion into work, and made sure JD was comfortable and got exactly what he was hoping to get out of this experience. Cody executed precision and paid attention to the little details while giving his beard a nice trim. JD walked away from his appointment feeling refreshed, rejuvenated, and extremely impressed by the skill of Cody's work. He will definitely be coming back. If you're in the area you should definitely pay a visit to the team over at Handle, on the corner of 6th and Main, you will not be disappointed.