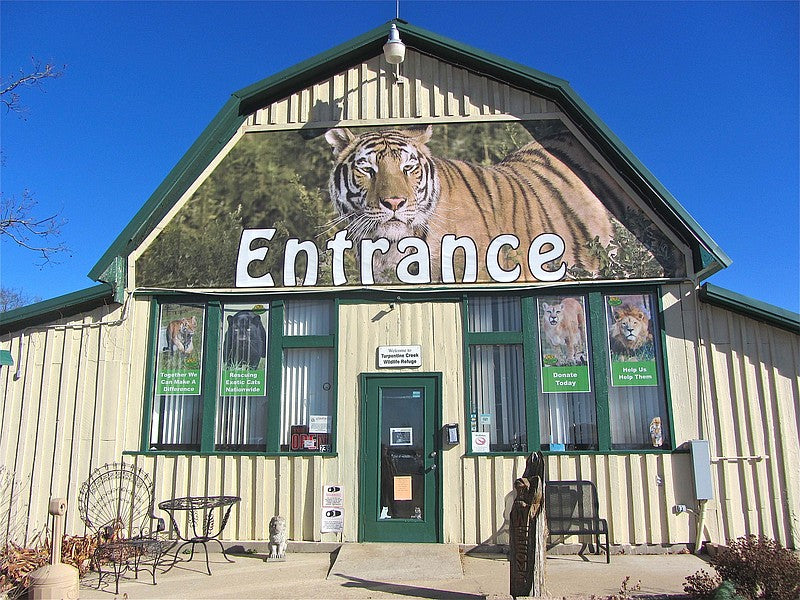 Turpentine Creek
By now you are probably aware of our love for cats. Yup. We are cat people. Fat cats, alley cats, grumpy cats... we love them all. Even BIG cats. So we could not resist stopping by Turpentine Creek during our recent trip to NWA. 
This Wildlife Refuge nestled in the mountains of Eureka Springs is committed to providing lifetime refuge for abused and neglected "Big Cats" with an emphasis on tigers, lions, leopards, and cougars.
We arrived a little late but the friendly staff allowed us to wander through the grounds where we met Kizmin (the beautiful white tiger photobombing our pic above), and an unexpected new friend- BamBam the bear. 
This adorable Grizzly Bear is considered "The Ham" of the refuge, and it's clear why he received that title. BamBam was happy to show off for us, rolling up into a ball and doing his own style of bear breakdancing. As you can see, we said a beary tender goodbye and promised to visit again soon.
If you would like to visit Turpentine Creek, learn more about their mission, or contribute to the lifelong care of these beautiful animals, head to their website. You can find volunteer opportunities, sponsor and animal, and even buy enrichment toys for them. 🐾